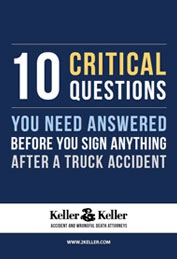 If you've been seriously injured in an accident with a commercial truck or tractor trailer, there is one important fact you should know right away: the trucking company's insurance agents are working night and day to settle your case as quickly and as cheaply as they can.
Making sure your medical bills are paid for appropriately and assuring that your fairly compensated for your damages is not the primary concern of the truck's insurance company; and believe it or not, it's not the primary concern of your insurance company either!
Download This Free Guide to Learn How to Protect Your Legal Rights After an Accident
This guide to the truck accident claims process is available to you as an absolutely free digital download, simply complete the form on this page and start reading immediately. The guide explains—in plain English—some of the complex issues you need to be aware of before pursing legal action, including:
The unique rules and regulations that make truck accidents very different from regular traffic accidents,
Why settling your claim directly with the trucking company is a bad idea,
How to determine the value of your claim,
What to do if the police report puts you partially at fault for the accident,
And more!
Start Protecting Your Legal Rights, Download Now!
Complete the form on this page to download your free copy and begin learning right away. As always, if you have questions or would like to speak to one of our experienced truck accident attorneys right now, call Keller & Keller at 1-800-253-5537.