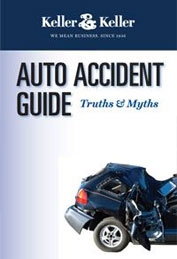 Warning: Read this book before you hire a lawyer or speak to the insurance company.
Your Free Guide to Auto Accidents
Guides such as this are often available to you in bookstores at a cost; Keller & Keller wants you to have this guide for free. You will eliminate hours of stress, confusion, and uncertainty by reading this book.

This book reveals:
Why You Need a Lawyer When Dealing With the Insurance Company
Why Medical Documentation is a MUST for Your Personal Injury Case
Who Must Pay Your Medical Bills
Who Must Pay Your Lost Wages
Who Must Pay For The Damage To Your Vehicle

AND MUCH MORE
Our FREE GUIDE explains the secret deadlines that will destroy your case if you delay in hiring a lawyer. It also reveals why you NEED to find a top-rated auto accident lawyer for your case, and the crucial questions that you must ask before you hire a lawyer.

FILL OUT THE FORM BELOW AND
WE WILL EMAIL YOUR FREE BOOK IMMEDIATELY!